THE WEEKLY EH? (OCT 29 - NOV 4)
POSTMARK: OCTOBER 29, 2018
It's Monday again, so here's a fresh sampling of something good happening on each day this week + a bunch more stuff if you keep scrollin' to the bottom:
OLD Kimberley Landfill Closure Open House | The OLD Kimberley Landfill has been closed for many years; however, it has not gone through a permanent closure. The RDEK is beginning the permanent closure process and is hosting an Open House on October 29th to review the closure plan with the public. There will be a presentation from the consultant working on the project, discussion on possible uses for the land and some Q&As.
* Hosted by Regional District of East Kootenay (RDEK)
Searching for Tao Canyon with Pat Morrow & Jeremy Schmidt | Join co-authors Pat Morrow and Jeremy Schmidt for a slide show and book signing of their newest offering: Searching for Tao Canyon.
Over the period of a decade, beginning in 1975, the subterranean world of the American desert began to offer up its secrets to photographer Pat Morrow, Jeremy Schmidt and Art Twomey. Long before the region was "discovered" by modern day adventurers and instagrammed nearly to death, the trio set out to explore and document the slickrock canyons (some for the very first time) that radiate across the surface of the parched Colorado Plateau.
In their newly released book, Searching For Tao Canyon, the dirtbag trio embark on a quest to find the perfect slot canyon in America's southwest—what they call "slickrock Xanadu."
The book, and the presentation, is a tribute to Art Twomey whose early conservation work in the Kimberley area helped lead to Wildsight's organization and mandate today.
* Hosted by Paper and Cup and Wildsight
Kimberley Platzl (& area) Trick or Treating | Most businesses that are open during 3-5 pm on Halloween Day will be participating, but here is a list of confirmed businesses: La Lune Candy Shoppe, Kimberley City Bakery, Kimberley Dollar Store, Bavarian Home Hardware, Kimberley Burrito Grill, Healing Hollow, OU Tasting House.
🎃 👻 🍭
Sheddy Sip n' Thrift | The College of the Rockies nursing students will be hosting their annual fundraiser for the Canadian Nursing Student Association at The Shed in Kimberley's Platzl! All proceeds go towards furthering their education and assists in additional nursing opportunities.
To participate in this event, you must provide a donation of gently used items (clothing, shoes, purses, jackets, etc.) The donation can be of any size but please be mindful that donation items are in good condition. As an alternative to donating items, a $5 entry fee will also be accepted, however, we encourage donations as this event is only possible with your help!
We do need the donations in advance so we are able to organize for the event. Please drop donations off at The Shed no later than Wednesday, October 31st.
We will have racks of $2, $5, and $10 - a great opportunity to find some steals! Along side the thrift shopping, we will also be hosting a silent auction. We have been so lucky to receive donations from local business owners - stay tuned for some sneak peaks!
The event starts at 7pm and the auction winners will be announced at 9pm! So come on down early, get a good spot, enjoy some dinner and drinks with friends, and be ready to shop till you drop and have a good ol time at The Shed!.
* Hosted by The Shed
FRIDAY, NOV 2nd + SAT NOV 3rd
Annual Kimberley Volunteer Ski Patrol Ski Swap | Come get stocked up for the ski season and help out your local volunteer ski patrollers!
Drop off your gently used gear on Friday AND catch the new Warren Miller Movie to get you stoked for the ski season!! Drop off times:
- Friday November 2nd from 5pm to 7pm
- Saturday November 3rd from 9am to 10am

Ski Swap Saturday November 3rd 10am to 2pm \ Unsold items must be picked up between 2pm and 3pm on Saturday November 3rd. Cost/Commission: $5/item, 20% commission on items sold goes to Kimberley Volunteer Ski Patrol training and gear
* Hosted by Kimberley Volunteer Ski Patrol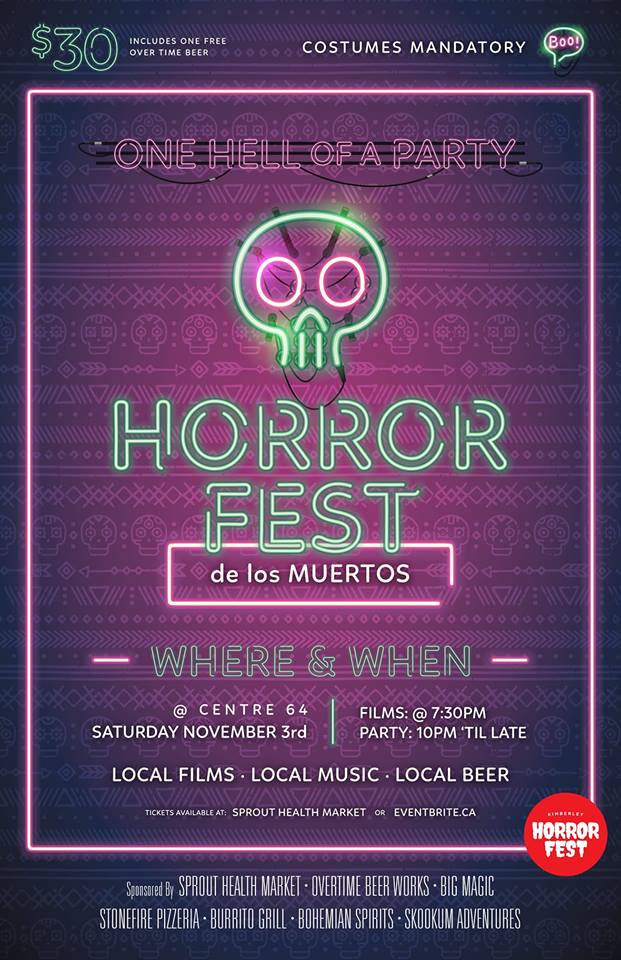 Kimberley Horror Fest; Day of the Dead | Kimberley Horror Fest is back for it's 2nd year! This year we are honouring Day of the Dead.
[$1000 CASH PRIZE FOR BEST FILM] Film Submissions: due by Oct 31. Please give us a head's up if you are planning to create a film so we can plan accordingly. The only rule is that film cannot be longer than 10 minutes.
Doors: 7:00pm
Films: 7:30 - 8:30pm
Cocktail Hour with Bohemian Spirits: 8:30-9:30
Film Awards: 9:30-9:45
Day of the Dead Gala: 9:45 til late
Tickets will be available soon on eventbrite and at Sprout Health Market. Please RSVP to this event for updates! Lennan Delaney Music and Oliver Mcquaid & the Tumbleweeds will be performing. Costumes are mandatory and prizes will be awarded for the best ones!
* Hosted by Kimberley Horror Fest
Saturday, NOV 3rd + Sunday, NOV 4th
…of course, there's much more than one thing happening on each day this week, and there are many more weeks to plan for than just the next 7 days, so maybe bookmark THE 95EH EVENTS CALENDAR for future moments when you find yourself wondering about what's going on and coming up in the Kimberley / Cranbrook area, eh?
But for right now—since you're already here reading this sentence—I've added a mini-95EH Events Calendar below. So have a flick thru that if you'd like to see everything happening on any particular day or keep scrolling down for other things worth clicking on.
#NOWPLAYING on
MOUNTOWN RADIO
YOUR WEEKLY 9(to)5 EH
Because Every week needs a good soundtrack…
Every Monday, the guy that sweeps the metaphorical floors at 95EH—who also happens to mess about with a music blog elsewhere on the internets—shuffles up the tunes he's liked over the years & pulls out a fresh batch of 95 tracks/artists that can be used to soundtrack a nice portion of whatever it is you get up to from the hours of 9 to 5.
The above 'Weekly 9(to)5 Eh' Spotify playlist is part of the pretend radio programming for a pretend radio station that broadcasts from an apartment in the 95EH.CA airspace called "MOUNTOWN RADIO"— and you can find some other listening options + tune in for real OVER HERE.
+ Here's SOME stuff FROM THE BLOG for even more options for exploring the area, eh?
If you would like to get your event listed in the 95EH Events Calendar, it's as simple as creating a Facebook event for your event. And if YOU'd BE INTERESTED IN CONTRIBUTING / COLLABORATING ON SOMETHING 95EH, or if you have any other questions / suggestions, feel free to send a "HEY!" TO: