THE WEEKLY EH? (APR 22 - 28)
Just like clockwork, it's Monday again.
Which means it's time for another weekly rundown of happenings happening Around this mountown.
So, how about starting with SOMETHING GOOD EVERY DAY, eh?
⇩
⇩
⇩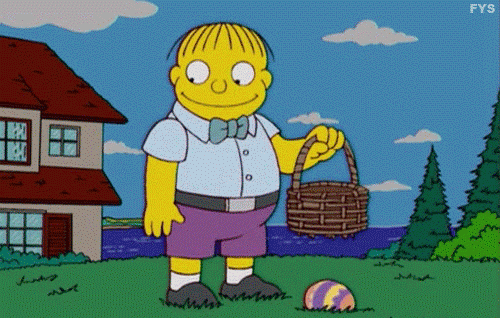 It's Easter Monday… and given the general slowness of a Monday in a Mountain Town, the Monday after eating more chocolate than is probably doctor recommended turns out to be especially chill around here. As in no event to shout out, so shout out to this Ralph Easter GIF instead. And I guess you'll just have to do one of the million non-specific-event things there is to do around a Mountown*.
*hint: it starts with heading outside, in any direction
KimCran AGM + Nature Appreciation Extravaganza | Join us on Wednesday, April 24 in the heart of Earth Week at the College of the Rockies (COTR) main campus in Cranbrook. There will be nature appreciation activities throughout the day and evening starting at 10:00 AM topped off with a short AGM Snack + Social starting at 8:00 PM.
This day has been made possible by a collaborative effort between the Humanity Network and College of the Rockies as part of our celebration of United Nations International Mother Earth Day.
Check out the great activities happening throughout the day and make sure to register early to avoid disappointment.
* Hosted by Wildsight and College of the Rockies
Big Magic Grand Reopening | Come celebrate our 3 year anniversary and grand reopening. Enjoy Food & Drinks and win Prizes. Oh yeah, it's also Jay's birthday.
5pm until 8pm at Big Magic HQ 220 Spokane Street in Kimberley.
* Hosted by Big Magic Design
2019 Dirtbag Festival | Crowfoot Media presents the 2019 Dirtbag Festival. Featuring live music by the Leather Apron Revival, presentation by alpinist, guide and author Barry Blanchard, short films and slideshows and the Community Slideshow. Ticket includes a copy of Crowfoot Media's "Canadian Rockies Annual Volume 3".
Doors open at 6:00pm. Show starts at 7:00pm
Sponsored by Kimberley Alpine Resort, Columbia Basin Trust, Rocky Mountain Books and Big Magic Design. Prizes sponsored by Creme Cheese Shop, Spirit Rock Climbing Centre, Northstar Roasting Company
* Hosted by Dirtbag Festival and Kimberley Alpine Resort
Saturday, April 27th + Sunday, April 28th
…of course, there's much more than one thing happening on each day this week, and there are many more days to plan for than just the next 7, so listen to what your gut is trying to tell you & make sure you bookmark 95EH.CA (either in your browser or your brain) for those future moments when you find yourself wondering about what's going on and coming up in the area.
But for right now—since we're already right here, reading this same sentence—I've added a version of The 95EH Events Calendar below for you to see everything happening on whatever day/month you're curious about.
Looking for some good music for the week ahead?
Well, we biasedly recommend MOUNTOWN FM - which is a 'pretend, for real' radio station that features fresh playlists that you can listen to at work, at home, in the car, or even on top of a mountain (which might be all in the same day, for some).
+ Here's SOME stuff FROM THE BLOG for even more options for getting to know the local vibe better — or maybe just for extending that coffee break a little longer, eh?
And that's it for this week's weekly run down.
If you'd like even more "ehs?!" throughout the week, make sure to follow 95EH on the socials…
…and be sure to keep an eye out on Friday for 'The Weekend EH?!' — which is kinda like 'The Weekly Eh?!' but also a little different *and more importantly* The 95EH Events Calendar is always adding more local events because events never stop getting made—so there's just a lot of stuff going on, eh?
\M/
'THE WEEKLY EH?' IS PUT TOGETHER EVERY MONDAY BY JEREMY / @HI54LOFI. IF YOU'D ALSO BE INTERESTED IN CONTRIBUTING / COLLABORATING ON SOMETHING 95EH, JUST SEND A "HEY!" TO: